John and Tom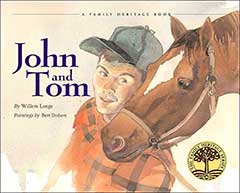 Format: Hardcover (Cloth)
Price: $17 (postpaid and signed by the author)
Published: Vermont Folklife Center, 2001
The Family Heritage Series

---

Paintings by Bert Dodson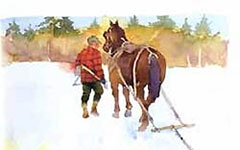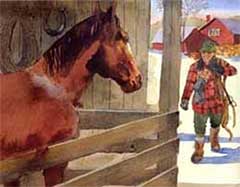 Annotation
When John has an accident while cutting logs in the Vermont woods, Tom, the Morgan horse who is his work partner and friend, uses intelligence and strength to rescue him.
Purchase this book at your local independent bookstore to see the beautiful paintings by Bert Dobson, and learn how this story ends...
About this Story
On a crisp November day, work for the logger, John, and his trusty horse, Tom, goes smoothly, until suddenly disaster strikes. As John cuts through the trunk of a big pine tree, the tree falls unexpectedly, pinning John's foot to the ground. He's stuck, and night is falling. Tom is tied nearby, but can the faithful horse unhitch himself and help?
Popular North Country yarn-spinner Willem Lange interprets the true tale of a young logger who is saved by his remarkable Morgan Horse after an accident in the woods. Luminous watercolors beautifully convey the mutual bond of love and trust between man and animal, while the warmhearted narrative calls out to armchair readers young and old. Concluding activity page.
Bert Dodson, is author and illustrator of numerous children's books including, most recently, Kami and the Yaks and Grannie's Secret Cupboard. Mr. Dodson lives in Bradford, Vermont.
What others are saying…
"Willem Lange isn't afraid of critics, but kids are another matter.
'If the critics knock your work, that hurts,' says the Etna writer and storyteller, 'but you can argue with it. If a kid says, yech, that stinks, you have no defense.'
"That might explain why Lange procrastinated mightily on his new children's book, John and Tom, done for the Vermont Folklife Center's Family Heritage Series. He began writing it only a few days before deadline, he said. 'I just tried to keep it simple.'"

— Dan Mackie, Valley News

"An inspiring story of the special bond between a young logger and his faithful workhorse… this story, based on local history, has a homespun, old-fashioned quality that will provide children with insights into a simpler, quieter lifestyle."

— School Library Journal

"Beautifully rendered watercolor spreads… A heartwarming story, with appeal to animal lovers."

— Booklist

"Highly recommended!"

— starred review Library Talk

"This addition to the Family Heritage Series once again highlights a true tale of north-country life. John, a young logger, and Tom, his dependable Morgan horse, ply their trade in the woods near their home. One cold day, while John is working, an errant tree pins his foot in the snow. "John often said that Tom was the smartest horse in the world" and it's his four-footed companion who saves him from a chilly demise. Tom chews through his tether to reach his master, follows a series of voice commands to haul the fallen tree away, and ferries John safely home to his worried parents. Lange (Tales from the Edge of the Woods) relates this ultimately uplifting tale with all the sturdy simplicity of a wintry Vermont landscape, while Dodson's (Buffalo Thunder) judicious use of color in his spare watercolors (the red of John's jacket against the snow, for instance) and a tight focus on the action heighten the drama. This book and this series as a whole preserves the memories of a bygone way of life. A brief afterword expands on the tale's origins and suggests ways for readers to collect and archive their own family's animal tales. Ages 4-8."

— Publishers Weekly. Copyright 2001 Cahners Business Information.

" An inspiring story of the special bond between a young logger and his faithful workhorse, set in Vermont in the 1950s. On a cold November day, John is pinned down beneath a fallen tree. When Tom hears the young man calling to him, he responds by biting through his rope and following all of his owner's familiar commands until he frees him. The logger and his horse return safely home and John comments to his father, " —I always take a friend. The best friend anybody could ever have!" The realistic illustrations capture the snowy, cold Vermont winter and the special relationship between the animal and the young man. The warm brown tones of the horse and barn, John's soft green and red clothing, and the dramatic close-ups of the accident and rescue support the straightforward text. This story, based on local history, has a homespun, old-fashioned quality that will provide children with insights into a simpler, quieter lifestyle."

— Carol Schene, Taunton Public Schools, MA. Copyright 2001 Cahners Business Information.

"These stories are a valuable tool."

— Boston Globe
An excerpt from John and Tom