A Dream of Dragons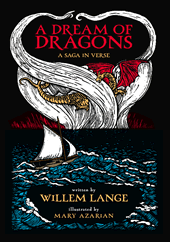 Format: Hardcover
Price: $25 (postpaid and signed by the author)
Publisher: Bunker Hill Publishing, 2011
About this book
The Viking Age began over a thousand years ago when the ancient Norse perfected their swift-sailing, dragon-headed longships. Young men, and later whole families, left Norway's rugged fiords in search of open land, trade, treasure, or fame. Many others took to the unknown sea simply because something vague and irresistible beckoned to them. They settled islands all across the North Atlantic and landed in North America over four hundred years before Columbus. Their exploits are recounted in the ancient Norse sagas.
A Dream of Dragons is a proper and modern Norse saga written with all the power of Melville and Hemingway and a true story now retold in the ageless rhythms of blank verse as irresistible as the beautiful and especially commissioned wood cuts of Mary Azarian.
What others are saying…
"Willem Lange has carved with his talents and his dreams a character of the north woods, not unlike the poet he has always admired, Robert Frost. He is a carpenter-craftsman, with an eye to the grains of New England woods and a nose for the textures and odors of the great evergreen wilderness that stretches into Canada. Part of that character is a man with many stories to tell, and he has become a bard of the cold, stony land of life and adventures that expand in his imagination. I saw that imagination at work when he sat with me some years back as we read through some of the greatest of the Icelandic sagas. He dreamed his own dragon-dreams; and here, now, he has brought a saga of imagination, as he draws us into a dream that travels from Norway to Iceland, to Greenland, and to the far northern wastes of Canada. Like the great Icelandic tales, his dream is vivid, sensitive to the sights and sounds of the North, and like them, is a realization of the Viking blend of curiosity and adventure, ranging from deep joys to heart-piercing sorrows."

— Prof. Alan T. Gaylord, Dartmouth College, emeritus

"A Dream of Dragons is a fascinating tale! In this true modern saga Olav Erikson and his son Martin pursue their destiny against a background of stark natural beauty. The author heard parts of this story years ago from the son's wife and here recreates the whole of their ventures in a narrative poem. The young Olav, sailing west from Norway to Labrador in a boat more fragile than the ships of his Viking ancestors, is haunted on the harsh seas by the flickering dragon-fires of the night sky and the distant threat of Thor's hammer. It's as if the Norse gods first inspire his odyssey and then pursue him, and later his son, to their dramatic ends."

— Robert Siegel, author of A Pentecost of Finches: New & Selected Poems

"A Dream of Dragons – A Saga in Verse" is a beautifully illustrated tale which spans the old and the new worlds. A journey across the North Atlantic at the turn of the twentieth century in the wake of the Vikings of old ends in love and loss, joy and sorrow, as the dragon fires dance in the night, evoking longing and memories in the hearts of men.

— Astrid Ogilvie, Viking Historian
About the illustrator
Mary Azarian
Mary Azarian has illustrated over 40 books, including Snowflake Bentley which won the Caldecott Award. Mary Azarian moved to a small hill farm in northern Vermont in 1963. She and her partner farmed with horses and oxen, kept chickens, a milk cow and sheep, made maple syrup and raised three sons as well as a large vegetable and flower garden. These years on the farm became the basis for the subjects she has chosen to depict in her woodcut prints. In 1969, she started Farmhouse Press and began producing woodcut prints, first printing by hand and eventually printing on a 19th century Vandercook proof press. Her initial prints were done in black and white, but she soon began experimenting with adding color.