Favor Johnson: A Christmas Story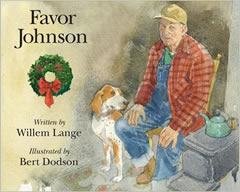 Paintings by Bert Dodson
Format: Hardcover (Cloth)
Price: $20 (postpaid and signed by the author)
Publisher: Bunker Hill Publishing (2009)
Reading level: Ages 4-8
# of Pages: 32
ISBN-10 1593730829
ISBN-13 978-1593730826
Annotation
Favor Johnson lives on a small farm in the hills of Vermont. He keeps to himself, surrounded by dozens of animals, chickens, geese, and his one constant friend, a hound named Hercules. Then one Christmas Eve Hercules' life is saved by Favor's new neighbor, Doctor Jennings, and Favor's whole life – as well as the life of everyone in his village – is changed forever.
About this story
A mystery hangs over a village as Christmas approaches. Who is delivering the delicious treats from house to house? A modern American folktale, Favor Johnson: A Christmas Story has been a favorite radio story for twenty-five years and is published now for the first time, brought to life by the wonderful watercolor illustrations of Bert Dodson. The unsentimental but completely heartwarming story of Favor Johnson, his dog Hercules, Doctor Jennings, and the mysterious house-to-house delivery of homemade fruit cakes on Christmas Eve has become a Vermont classic tale.
It's a very moving tale of neighborliness and generosity in a Vermont village at Christmas. A story about the real spirit of Christmas, its message is not only for or about Christmas time. Willem's text is brought to life by the wonderful watercolor illustrations of Bert Dodson. This book is their second collaboration, the first being the highly acclaimed John and Tom published in 2001 by The Vermont Folklife Center. Bert Dodson, is author and illustrator of numerous children's books including, most recently, Kami and the Yaks and Grannie's Secret Cupboard.
The radio story
The story of Favor Johnson by Willem Lange as featured on Vermont Public Radio (VPR) December 20, 2002, in both print and audio versions
Where to buy this book
See the beautiful paintings by Bert Dobson, and learn how this story ends... order this book directly, signed by the author to the kid(s), at Will's General Store, for $20 postpaid.
You'll can also to purchase from the Publisher Bunker Hill Publishing, amazon.com or your local independent bookstore
What others are saying…
The story opens with a man in a red-checked coat delivering, door-to-door, dozens of homemade fruitcakes. He bakes them at home inside tin cans, "for two people, it was a soup can. For small families, a vegetable can. For large families, a tomato can."

The man's name is Favor Johnson and he lives on a farm that used to be quite large, but isn't anymore. Favor is poor and lives alone. Well, not completely alone. He has some cows, chickens, an old horse, a lot of cats, and a dog named Hercules. One night, on Christmas Eve, actually, Hercules goes missing. Favor searches high and low and finds that his companion has been seriously injured.

For the first time, Favor finds himself in the position of, while not exactly asking for help, at least accepting it. It changes his life–it changes everyones' lives. Dodson's delicate and explicit illustrations are the perfect foil to this unsentimental but completely heartwarming tale. Children of all ages will enjoy the story, and adult readers will laugh out loud at the expressive joke on fruitcake.

— Heather Shaw ForeWord Magazine September/October 2009